Your Airport should be the gateway to a positive first impression
Happy travelers spend more money in the Passenger Terminal
At Service Management Systems (SMS), we believe your airport gate should actually be called a "gateway."
A gateway to your Passenger Terminal. To your City. And to your Region.
SMS cleans and sanitizes your gate and your entire passenger terminal to not only ensure the health and safety of your visitors (and the people who work there) – but also to help cultivate happy passengers who will spend more money in your terminal today, and then look forward to their next trip through your airport.
"While airports are doing a good job coping with the current issues, there is still more they could do to improve passenger experience while also improving their own bottom lines. Happy passengers spend a lot more money at the airport, so ongoing efforts to spread passenger volumes throughout the day and deliver superior service at all customer touchpoints will be critical," according to Michael Taylor, managing director of travel, hospitality, and retail at J.D. Power.
A data analytics and consumer intelligence firm, J.D. Power released its annual 2023 North American Airport Satisfaction Study Sept. 20. It reports there is a direct correlation between overall passenger satisfaction and spending at the airport. Passengers classified as "delighted," meaning they rate their airport experience as 10 out of 10, spend an average of $44 in the terminal, while those classified as disappointed (1-5 out of 10) spend just $29.
You surely realize that your airport is both a gateway to your region and an economic engine for your local economy, but the J.D. Power study also quantifies how the cleanliness and sparkle of your airport goes straight to your airport's bottom line.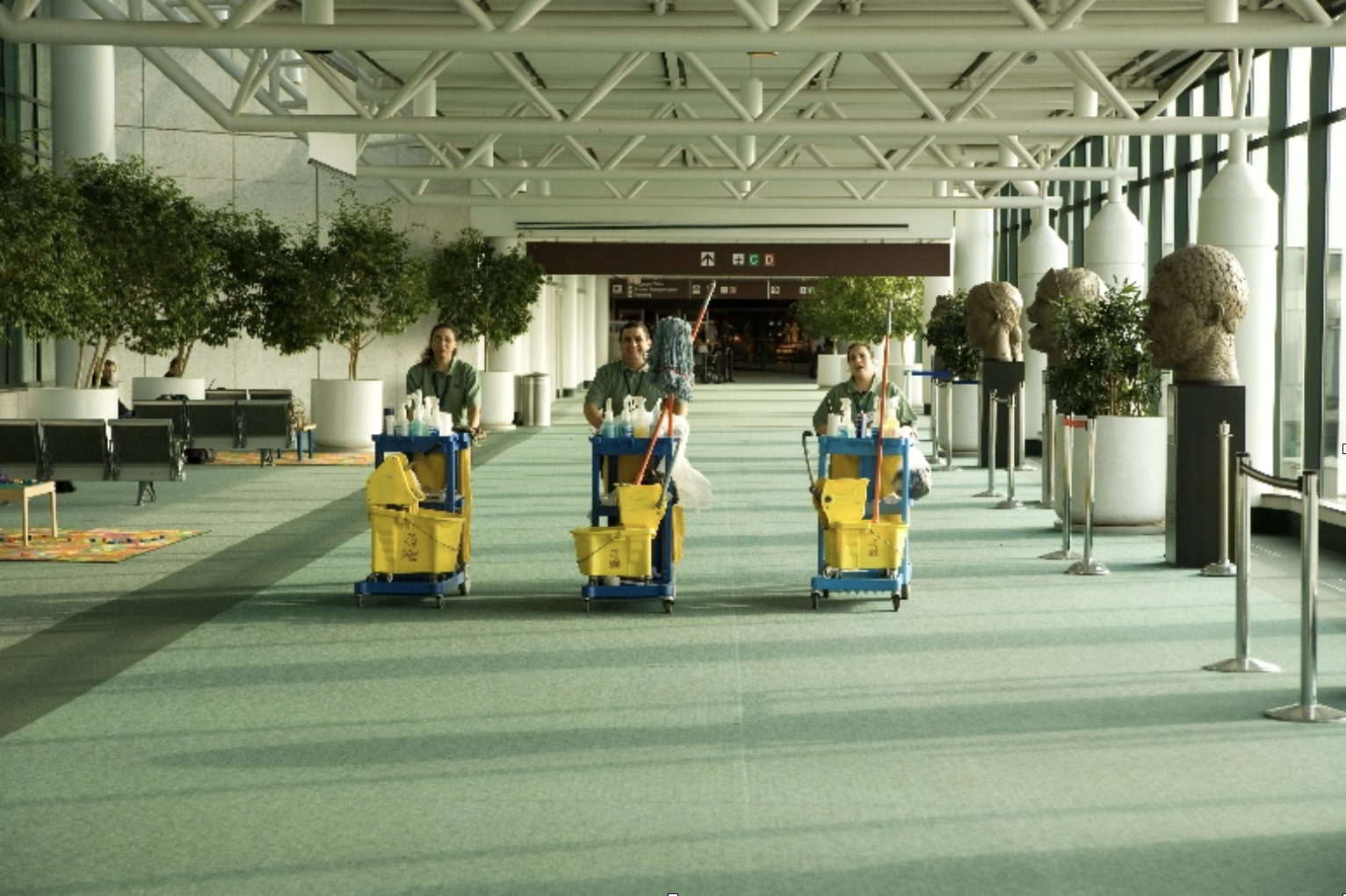 SMS provides janitorial services at four airports – Destin-Fort Walton Beach Airport (VPS) in Florida; Lynchburg Regional Airport (LYH) in Virginia; Durango - La Plata County Airport (DRO) in Colorado; and Waterloo Regional Airport (ALO) in Iowa – and we sweat the little things that sometimes aren't so small to the road-weary traveler. SMS Facility Manager Kevin Kruse routinely gets his hands dirty at Destin-Fort Walton Beach Airport, and that allows him to find out firsthand what people actually think about the job we perform there every day.
He said, "We receive plenty of feedback from passengers that come through our facility. Most of it is positive, but sometimes it can be negative, and we strive to do our best. We're always looking to make improvements because we're never done cleaning. We're never thinking, 'Hey, everything is great and everyone can take a breath.' There's always something coming up next, something new, but we work through it as a team.
"When we walk through our areas, and we're out of the office as much as we can be, we are always checking in with our team to make sure the assigned areas are on point. A lot of passengers will come up to us and say, 'Hey, who does the housekeeping here?' Or they just ask if we work here (and say) 'I just want to let you know your bathrooms – they are very clean, they look great; we really appreciate it.' They see us cleaning, and a lot of folks know the effort that goes into it. They really appreciate coming through a facility that smells good and looks good. It means something when someone cares about the area they work in – that they own it. And people recognize that. A quick but genuine kind word goes a long way."
Everyone notices a sparkling clean restroom (or the opposite). A 2017 Airport Council International ASQ Best Practice Report on Airport Cleanliness showed that 32.1% of the traveling public ranked the Cleanliness of Airport Restrooms as the most important item affecting their airport experience, followed by 23.2% who ranked General Cleanliness of the Airport Terminal.
But at SMS, we follow the science and don't stop there – providing a consistent level of clean in every corner of your terminal.
For example: we perform a more detailed cleaning/sanitization of high-touch areas throughout both public and employee spaces – such as ticket counters, vending machines, ATMs, courtesy phones, door badge keypads/push-bars, and office phones – to name just a few. Self-check-in customer kiosks are also on that list, and SMS is careful to treat them with the proper chemicals, so as not to damage the screens. The goal is to clean/sanitize these items a couple of times a day, as well as educate our staff on protecting themselves from cold/flu virus exposure (through frequent and proper hand-washing, not touching or rubbing eyes, nose, or mouth, etc.).
As you might expect, not only do travelers notice the different feel of a clean passenger terminal, but so does airport management.
"SMS provides quality work in our high-traffic airport facilities 24/7/365 in all public, secured, and private areas of the airport with emphasis on glass, flooring, and "first impression" areas and constant sweeping, vacuuming, restroom cleaning, stocking, wiping, spot mopping and responding to work order requests," said Mike Stenson, Destin-Fort Walton Beach Deputy Airport Director. "The local SMS team is well led by their Manager and Supervisors. The employees appear to have a positive attitude, strong work ethic and communicate well with the entire Airport team, which consists of County Airport staff and numerous other tenant organizations."
Destin-Fort Walton Airport is nestled in an affluent region on Florida's Gulf Coast, just 30 minutes in either direction from competing airports. To the east is Northwest Beaches International Airport in Panama City, and to the west is Pensacola International Airport. So, taking passengers for granted would be unhealthy for both people and business.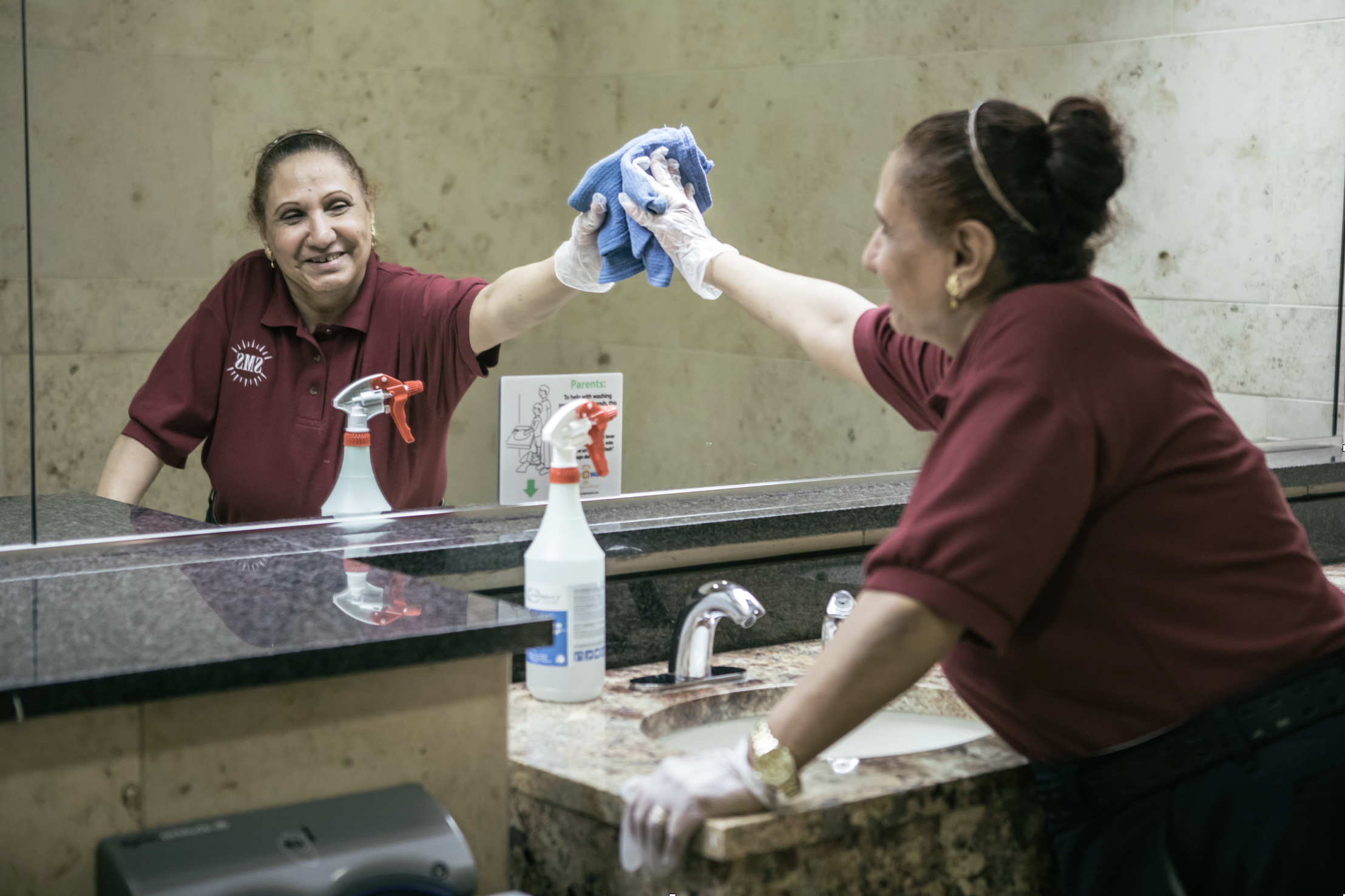 The COVID-19 pandemic heightened both the importance and the awareness of proper cleaning protocol, equipment, and supplies. With that in mind, Destin Airport's Okaloosa County Airport Administration partnered with SMS in 2021 to create a 60-page Accreditation Proposal and prepare the Airport for reviews and inspections. Destin earned Global Biorisk Advisory Council® (GBAC) STAR™ accreditation – which is the gold standard for prepared facilities. It is the cleaning industry's only outbreak prevention, response, and recovery accreditation for facilities.
We believe that airport janitorial service providers are not all the same. Firsthand data on how passengers spend more when they are "delighted" with your airport gives additional validation to the concept that it pays to choose the correct partner for your facility's needs.
After all, you only get one chance to make a great first impression.