A Clean School Matters!
Our cleaning programs are designed to improve academic performance and allow faculty to focus on teaching quality, keeping your entire school looking brand new while helping prevent the spread of illness and infection.
When students play, work, and interact in close environments, such as schools and childcare facilities, they are more susceptible to the spread of illness-causing germs. It's important to clean your academic facilities correctly, while using proper disinfectants. With our strong roots in healthcare environments, adopting strict government standards, we ensure a consistent, high-quality cleaning approach.
Students and parents evaluate educational facilities based on appearance. For parents, it's one of the first things they consider when choosing a K-12 school or childcare facility. When potential students tour your higher education campus, the overall appearance has a tremendous impact. Make a great first impression and allow us to help you keep your students healthy and in the classroom with our tailored cleaning, exterior upkeep, and maintenance services.
Our Education Team in Action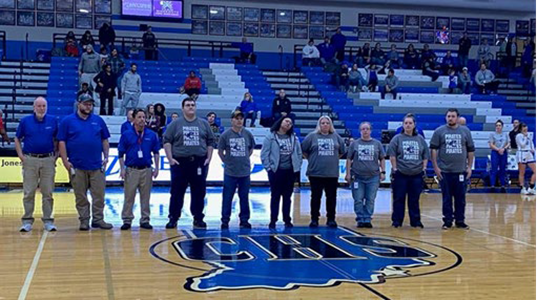 Charlestown High School Voted "Cleanest School!"
On Dec. 13, 2022, our Service Management Systems, Inc. Housekeeping and Maintenance Teams at Charlestown High School in Charleston, Indiana were honored for their hard work and dedication to providing quality service to the school. During the recognition ceremony held between basketball games, they were notified that Charlestown High School was voted "Cleanest School" out of all the schools in the Greater Clark County Schools area.
Both the SMS Housekeeping and Maintenance Teams embody our core values and commitment to doing "Whatever it Takes!" in support of our customers. We are extremely humbled and impressed by their dedication.
To find out more about why a Clean School Matters
Read Our Blog