Right People, Right Place
We connect the right people with the right roles.
Service Management Systems believes that our people are our greatest asset. Our extensive staffing practices ensure we have the best employees available to create an effective program.

Frontline Recruiting and Hiring
Service Management Systems has established partnerships with the public workforce system in every state in which we operate, and we have a strong and long-standing relationship with CareerOneStop. CareerOneStop is part of the Department of Labor. It offers training referrals, career counseling, job listings and similar employment-related services. This allows us to fill job openings without incurring costs, while benefiting our local communities.
Service Management Systems' ADP Career Site

Service Management Systems' ADP Career Site automates information flow during the recruiting process. Applicants can:
Access the site from any mobile device, smartphone, tablet, desktop, etc.
Choose to view the site in English or Spanish
Search and apply for multiple job openings by location
Sign up for text and/or email notifications
Consent for a background check online
View the status of their application throughout the entire recruiting process
And so much more!
Looking for a career? Use the button below to find and apply for an open position near you. APPLY NOW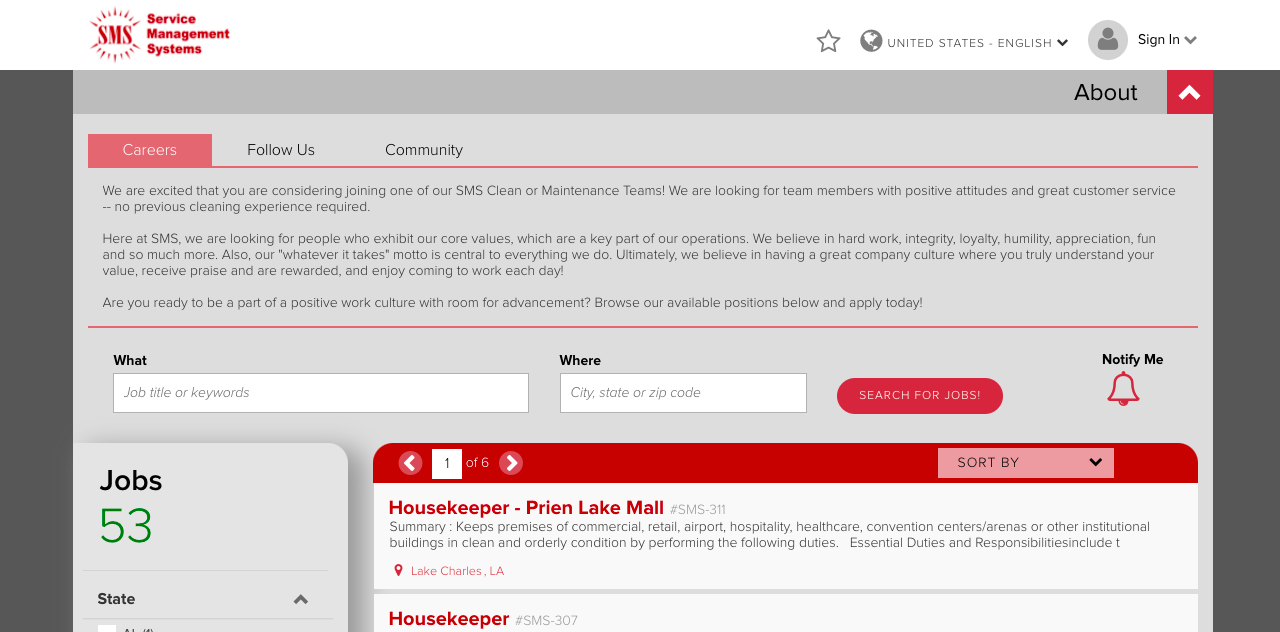 Management Recruitment and Hiring
The Facility Manager or EVS Director is the most important management position in our organization. In our management screening, Service Management Systems utilizes two types of pre-employment tests designed by Wonderlic to help determine the best candidate for its management positions.
Retention
Clear Career Paths
Service Management Systems believes strongly in promoting from within our organization. We hire for talent and personality, and then train our systems, technology and techniques to every individual. Whenever possible, we are looking to identify talent that is ready for a larger responsibility role and schedule continual training to focus on preparing them for the next step in their career within Service Management Systems.
Employee Motivation and Morale Programs
We've developed motivation and morale programs designed to help each employee see their relationship with us as a career. Visit our Whatever It Takes page to see the latest employee accolades.