COVID-19 Response
SMS is partnering with our customers to provide safe and healthy environments for their shoppers, passengers, patients, guests and visitors.
On March 11, 2020, Coronavirus (COVID-19) was labeled a global pandemic. SMS is prepared and has an approach to disinfecting the commonly touched items at our facilities to aid in preventing cross-contamination. We gather our facts directly from the Centers for Disease Control (CDC).
During these trying times, SMS is looking to assist our communities, companies and facilities that are in need of additional expertise with COVID-19 disinfection and decontamination. We are offering temporary consulting services to assist your facility with:
PROPER EQUIPMENT AND TOOLS utilization, including personal protective equipment and chemical disbursement tools
PROPER DISINFECTING PROCEDURES for operating hours and on a nightly basis, when facilities are closed to the public
COMPLETE DECONTAMINATION of individual rooms or offices spaces for multiple building types
CUSTOM TRAINING VIDEO production
STEP-BY-STEP INSTRUCTIONS for daily checklists, hands-on training of your staff on multiple shifts and more
Our consulting packages will include an hourly rate for SMS Management and/or Executives, plus the cost of travel, food, miscellaneous expenses and lodging. Should you prefer to use SMS for the purchasing of personal protective equipment, disinfecting chemicals, spraying/misting equipment, and/or other items, SMS will bill these items at cost plus. If you would like more information about SMS and what we can do for your facility, we would love to hear from you. Complete the form below and we will be in touch soon.
Get Started with SMS
If you would like more information about SMS and what we can do for your facility, we would love to hear from you. Complete the form below and we will be in touch soon.
Read more about our COVID-19 Response below, and download our free guides and poster.
What is COVID-19?
The virus has been named "SARS-CoV-2" and the disease it causes has been named "Coronavirus disease 2019" (abbreviated "COVID-19"). COVID-19 is a "droplet" virus. This means it can be spread through coughing or sneezing, leaving droplets in the air to be breathed – typically within six (6) feet of the sick person.
What are the Symptoms?
Reported illnesses have ranged from mild symptoms to severe illness and death for confirmed COVID-19 cases. Symptoms may appear 2-14 days after exposure to the virus. People with these symptoms may have COVID-19:
Cough
Shortness of breath or difficulty breathing
Fever
Chills
Muscle Pain
Sore throat
New loss of taste or smell
This list is not all possible symptoms. Other less common symptoms have been reported, including gastrointestinal symptoms like nausea, vomiting, or diarrhea.
*This list is not all inclusive. Please consult your medical provider for any other symptoms that are severe or concerning.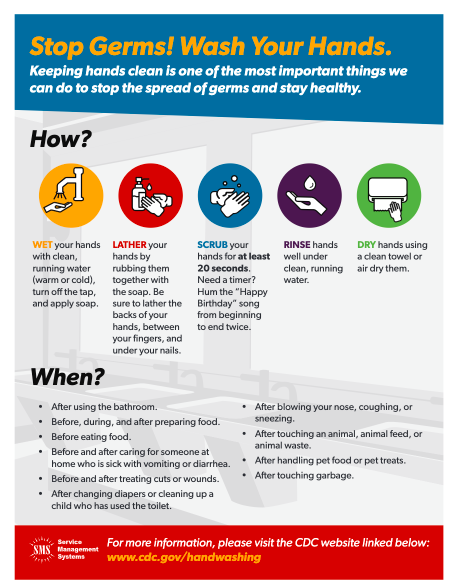 Stop Germs! Wash Your Hands
Keeping hands clean is one of the most important things we can do to stop the spread of germs and stay healthy. It is listed as one of the Everyday Prevention Actions each person can take to stop the spread of germs.
Be sure you are following the correct steps for handwashing by clicking the button below to download our free Handwashing Poster.