Service Management Systems/ Perfection Group has a unique partnership with Greater Clark County Schools
And the result is well-earned success from the challenges of servicing a sprawling Indiana school district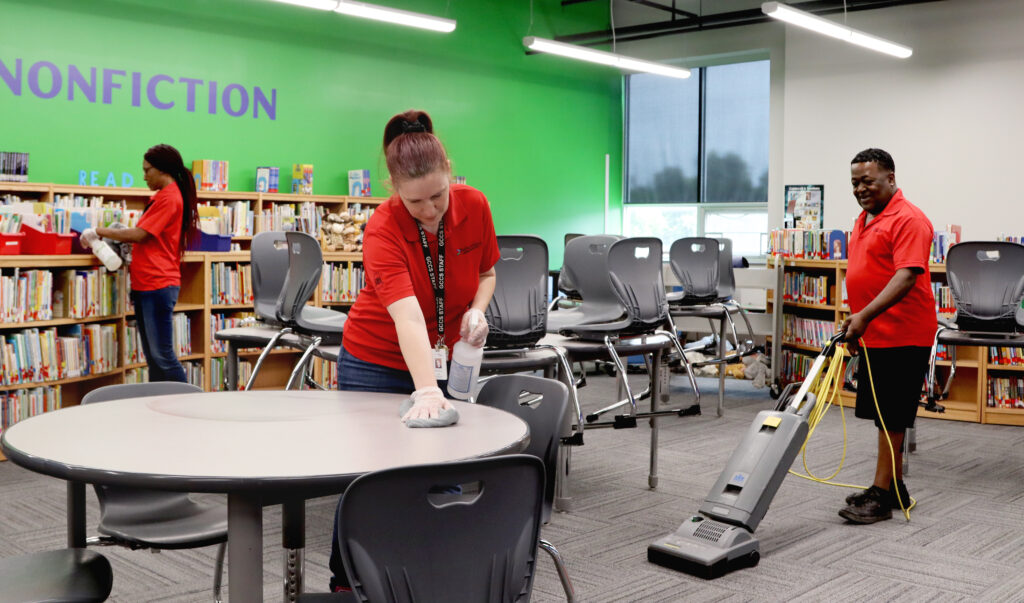 If you have children, you would probably agree that most kids are inherently good, but cleaning up after themselves isn't always their strong suit. If you don't have any, just ask a school custodian.
It can be difficult to find, nurture and keep school custodians – especially at a middle or high school, where teenagers often mistreat locker rooms, restrooms, and other areas on school property. When this happens, it's up to school custodians to clean up the mess, and it's essential to keep your custodians in the best frame of mind.
"You are constantly letting them know you appreciate what they do," said Cindi Carnes, Service Management Systems (SMS) Operations Manager at the Greater Clark County Schools (GCCS), a large school district in Southern Indiana
SMS' Marketing Team had the opportunity to hang around with Cindi and a few of her custodial and maintenance teams for a couple days recently. Here are a few things we learned:
Work is rarely done in a vacuum. Instead, you're often sharing a building and working around study hall, choir practice, or parent/teacher night until the second half of the evening shift.
Managing budgets to provide Class A custodial services to 20 different buildings while protecting the taxpayer's dollars is kind of like dropping clothespins into a bottle from five feet – it takes practice.
A teacher who shares an unsolicited and quite vocal "I love our custodians!" as they walk past makes a difference.
Cleaning can be a downhill effort when your elementary school has a tube slide for kids to get from the 2nd floor to the 1st floor – and you're carefully sliding down, twisting and contorting your body to sanitize behind you as you go.
A bird's nest on school property can hatch a brood of issues if someone thinks they saw baby chicks in it.
This is just a taste of what Cindi experiences every day after she wakes up at 3 am, packs up her funny bone and her get-to-work attitude, and heads out the door. Cindi manages a team of 100+ employees providing custodial and maintenance services to a school district with 20 buildings – 3 high schools, 3 middle schools, 10 elementary schools, 2 administration buildings, and a couple of equipment maintenance service centers.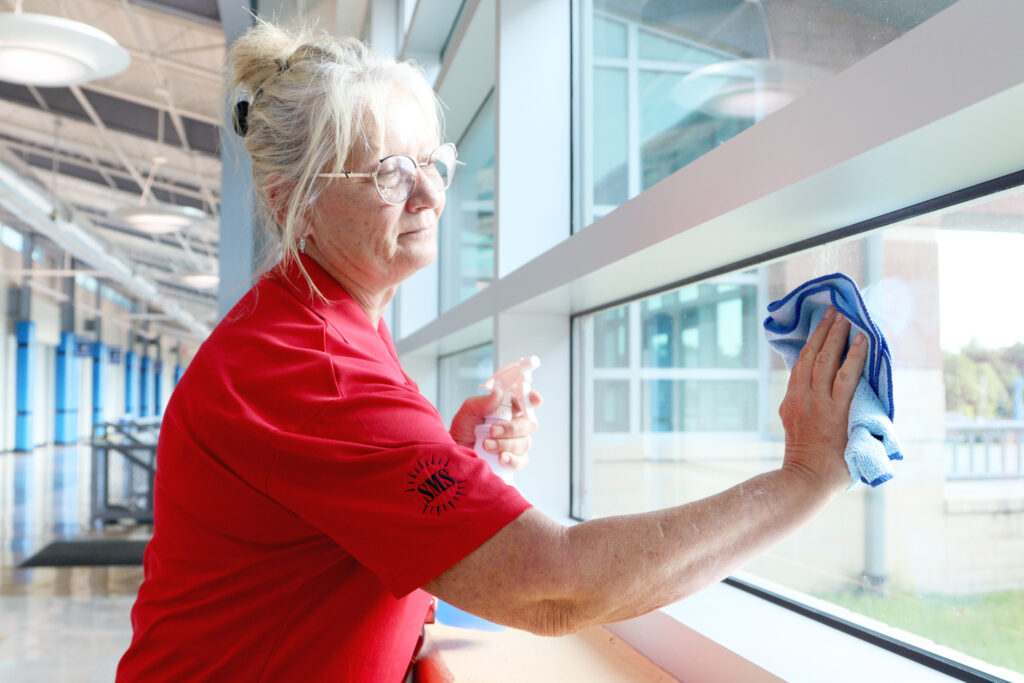 The GCCS is a sprawling school district immediately across the Ohio River from Louisville, KY, and includes schools in both suburban and rural communities. The district is serviced by the only "Total Facility Solution" contract in Indiana.
You might be tempted to ask: Why does a clean school matter?
And what's it like to have seven unique custodial teams plus a maintenance team covering such a diverse and geographically broad school district?
"Sixteen schools is really like 16 businesses," said Chris Gunther, Facility Director at Perfection Group. "Each principal, each school has their own nuances."
Perfection Group, a Heating, Ventilation & Air Conditioning (HVAC) company at its core, manages a "Total Facility Solution" for GCCS that includes not only HVAC, custodial, and maintenance, but other services including engineering, roofing, paving, windows, and landscaping. Perfection Group also provides new design on mechanical systems and green energy solutions that often result in considerable energy savings and improved Indoor Air Quality (IAQ).
Perfection Group first met with GCCS CFO Laura Hubinger during the height of the COVID Pandemic, and came in focused on "How do we create clean air?" Laura saw the opportunity to bring even more value through outsourcing certain operations, and things took off from there.
"Outsourcing is a great way to save money, and this District was in a financial crisis," said Chris. GCCS is a large District, with over 10,000 students, placing it in the Top 25 in Indiana for total enrollment.
The process of putting together the best sub-contractor list to provide a Total Facility Solution was challenging. "It was crazy working with you (SMS) and all our other vendors," said Chris. "We talked to all of the 'big ones' (in custodial & maintenance)."
SMS is the largest sub-contractor in the GCCS Total Facility Solution, and Chris expressed his confidence in the SMS/Perfection Group partnership: "I trust that the people put in place can be counted on. Every problem, we've bounced back so fast. I trust them 110% that it's going to get done."
Cindi and the entire SMS Leadership Team has worked hard to win over the skeptics created when GCCS decided to farm out its custodial services, while also infusing enthusiastic new employees into the mix.
With the Total Solution contract between GCCS and Perfection Group in place since July 2021, SMS has carefully built a layered team under Cindi's leadership that has been tailored to improve the company's performance level, as well as communication with both GCCS and Perfection Group. The current SMS team under Cindi includes a Maintenance Manager, a Facility Custodial Manager, an Assistant Facility Custodial Manager responsible for the evening shift, four "Quad" Leaders (supervisors who work at a base school but also oversee three other schools), and an Administrative Assistant responsible for recruiting workers.
When hiring, "I look for someone who's passionate about what they're talking about, has a ready smile and a joke, and is willing to learn," said Cindi.
Many SMS custodians at GCCS have children or grandchildren in the school system.
"One of the biggest things that makes this team unique is we all have a passion for the student," said Cindi. "I want (our employees) to ask, 'If I had a student attending here, would I be happy – or would I be going to the PTA Board?' (with a complaint)."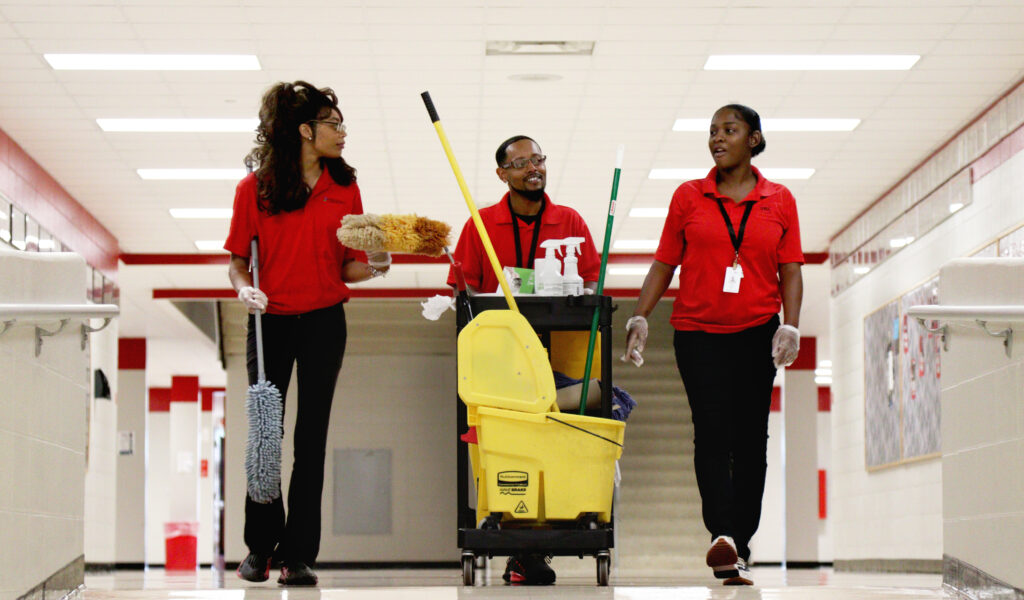 Working custodial in a school building is more than just reacting to what's in store for you around the next corner. For example, Cindi's team pays attention to social media, such as getting ahead of the curve on the TikTok trends that encourage students to damage school property.
But truth be told: many of the custodial and maintenance tasks in a school building and surrounding property are routine. Everyone wants a clean restroom every time. Every principal wants a clean entrance. Every teacher wants a clean classroom, and every coach wants a clean locker room. Challenges can arise in a school just as quickly as a student can get in trouble, or make you smile.
So, the SMS custodians and maintenance workers who take care of GCCS schools have learned to be flexible, accommodating, and conscientious stewards of not only the school buildings they service and the taxpayers who cover their paychecks – but most importantly – the young people who fill the hallways with laughter and remind them of why they come back to do it all over again another day.
If you'd like to talk to someone about SMS' accomplishments and challenges faced at GCCS, reach out to Daniel Meyr, V.P. of Business Development, at (615) 961-4310 or dmeyr@smsclean.com.